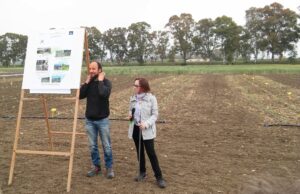 CREA hosted an Open Day – Agro-ecology and innovation of agricultural management in organic farming. Experiences from Agrocambio projects, Soilveg and AgroCycle – in Metaponto on the 11th May 2017.
The aim of the day was to illustrate innovative organic horticultural models from three research projects that are currently underway:
AGROCAMBIO (Systems and agronomic techniques for adaptation to climate change in agricultural systems biological),
SOILVEG (Improving soil conservation and resource use in organic cropping systems for vegetable production through introduction and management of agro-ecological service crops – ASC) and
AGROCYCLE (Sustainable techno-economic solutions for the agricultural value chain).
In attendance on the day were a range of stakeholders from farmers to researchers to local citizens.